How to Buy White Tea Online
Here are some guidelines to steer you to superb tea:
1.Buy Quality Loose Leaf White Teas
This is the real deal, the pure tea, as it's been for ages and ages, long before the rise of the tea bag.
Brewing a cup of loose-leaf tea used to mean a small army of teapots and kettles, strainers, and other gadgets, but modern technology and a little cleverness have made the process fast, easy, and convenient.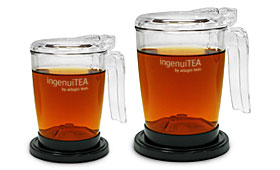 We recommend the IngenuiTEA teapot.
It's the portable, microwaveable, easy-to-use, easy-to-clean teapot that's getting rave reviews.
Both sizes work well, with the regular IngenuiTEA making 2 cups and the iced IngenuiTEA making 4. By the way, the iced IngenuiTEA works beautifully with both hot and iced tea.
Make sure you check out the video and the customer ratings!
2.Buy From A Reliable Tea Seller
Do they have a nice website, a good selection of teas? Do they look like an established company with a solid foundation, or a fly-by-night tea shop? Check their shipping and return policies and privacy policy. Buy from a quality merchant.
3.Explore Sample Packs
New to the world of white teas? Sample packs offer a fine start, letting you try several varieties at an affordable price.
White Tea Sampler
- Includes Silver Needle, Jasmine Silver Needle, White Symphony, and Snowbud varieties.
White Tea Flavors Sampler
- Includes Blueberry, Peach, Pear, and Tropics flavored teas.
4.Buy Better Quality Tea Bags
Sometimes you just need the convenience of tea in a bag. That used to mean sacrificing the taste and richness of loose-leaf tea, but not anymore.
With these gourmet tea bags
, you get beautiful loose-leaf tea in a convenient and portable form. They're not cheap, but considering that you can use each bag three times, it's an affordable luxury.
Thanks for visiting.
May you be blessed with great tea!
See White Tea from Adagio Teas - Free Shipping with $50 Purchase